Someone Used My Images and Story as Catfish Bait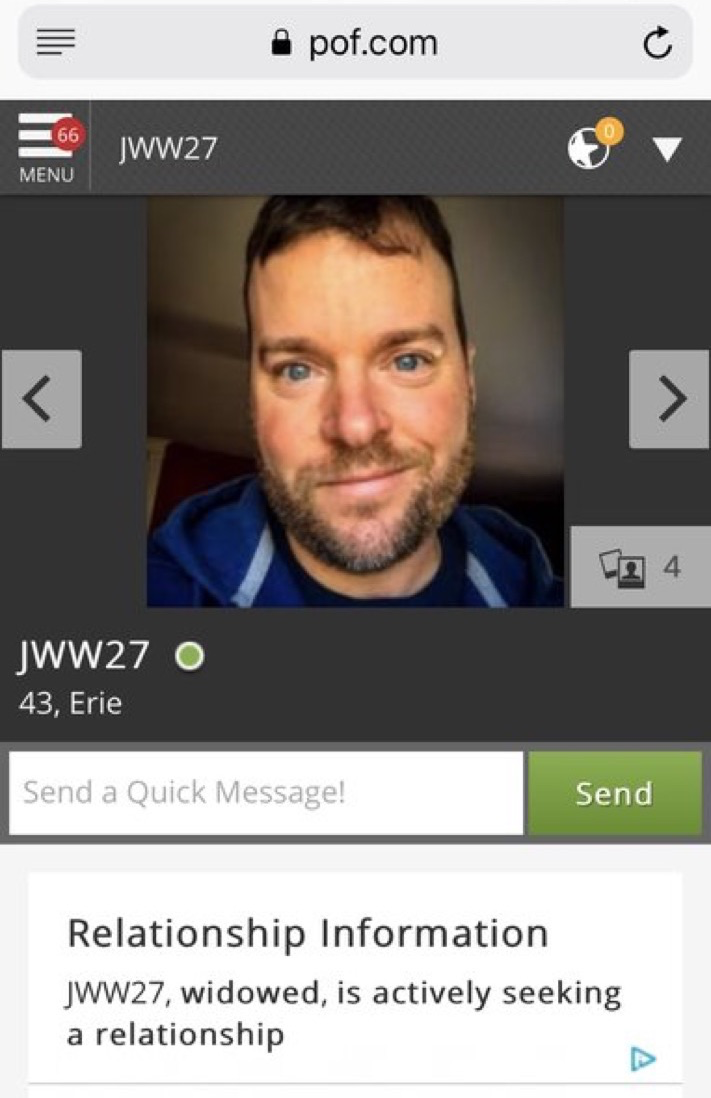 Near the end of last month I received several urgent messages from a stranger. I'll call her Jennifer. Jennifer reached out to me via Twitter DM, Facebook Messenger, and a comment on a random post on my blog. She was determined to let me know, and perhaps verify I was actually who I claimed. Regardless, I'm glad she did.
After I replied to Jennifer's frantic messages, this is what she told me:
Hi. Very sorry I keep trying to reach you. I really feel you should know that your photos are being used on an online dating site. The profile is on http://plentyoffish.com . Someone is using your life to try to scam women online. I just spent almost a month talking to this person, with your face and family. I'm sorry I didn't realize it more quickly. I felt you should be warned, so you can take any action you wish.
Wow! Like, some dude thinks I'm attractive. And so does Jennifer. :)
Then Jennifer sent me a few screen shots of this guy's profile and my ego returned to somewhere closer to normal. He made me a tall, French-speaking, Catholic, dog-loving, college dropout, Scorpio. Aside from the religion and quitting college bits, those are things I'd love to be different about me, too. Well, not the astrological sign bit, either. I am a science nerd, after all.
I mean, if you could just make up shit about yourself, what would you be? It might be fun to do for yourself, but is a kick-in-the-teeth when someone else does it to you.
About Frank
I figured I would try the online dating thing out and see how it goes since I"m not really into the bar scene. I've been single since i lost my wife 3 years ago. I'm looking for a long term relationship if the right person comes along but if we just turn out to be friends that's fine too. I have three daughters that mean the world to me. If you don't care for kids there isn't much sense in contacting me. I enjoy making people laugh. I'd like to find someone that likes to travel, go hiking, or running. spend some time at the ocean and just hang out with friends. I also like to watch a good movie at home just as well. I don't watch a lot of TV but I do like a good series like Big Bang, shameless, the ranch .etc.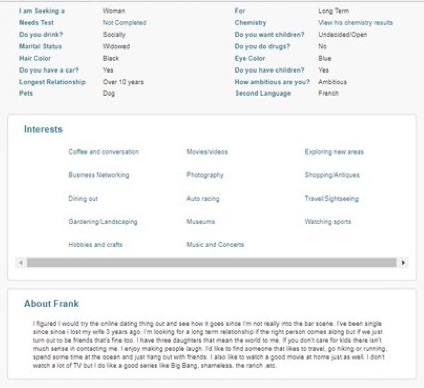 He did get the bits correct about being a widow with three daughters. I'm honestly not sure how that changes my attractiveness or dateability. "Frank" thought it would help, apparently.
Jennifer told me she's been talking to this bloke for a month on the phone. He'd sent her lots of pictures of Kirsten, but wouldn't talk about "his" daughters. He did speak French. No idea how tall he is. Jennifer became suspicious when he said he was stranded and asked her to send him $1,000. After that, she put my photos in to Google Images Reverse Image Search and discovered me, and began reaching out.
She told me that he's created multiple profiles with my photos and story, changing the names and city. To other women who have been victimized and find this page, I'm sorry. Frank is an asshole.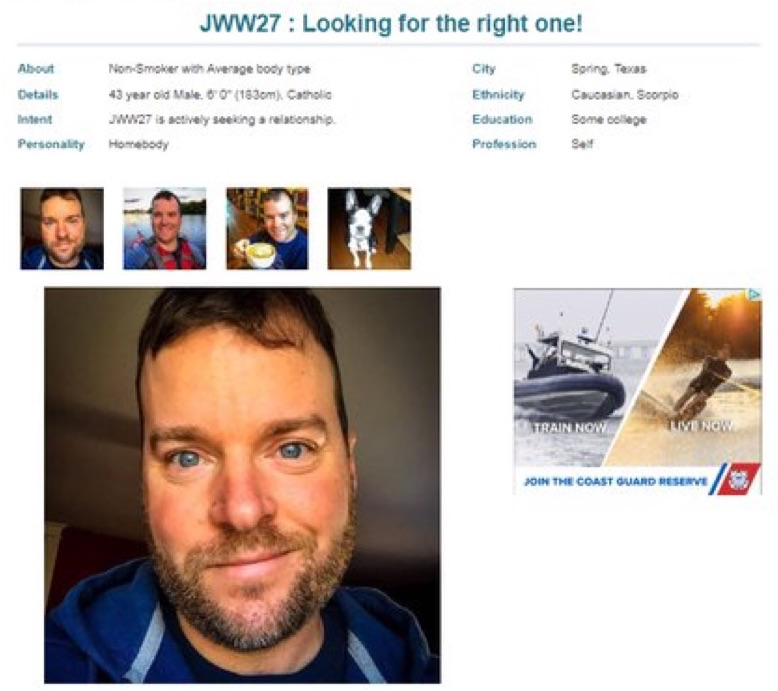 I did contact Plenty of Fish about the profiles and they replied to let me know they'd removed the account and photos.
Stay safe out there, kids. And thank you, "Jennifer," for letting me know. I wish you much success in your search for love.
For the record, the real me isn't currently looking for love, my longest relationship was 25 years, I don't give a shit about your horoscope, and I'm not into auto racing. I'm 5'9" and would never live in Texas.